News
News of: 14.07.2009, at 17:30:00 hrs
Puratos sponsors the project "Circumnavigation"
Puratos is a world famous manufacturer of ingredients for bakery and patisserie products. Such ingredients improve the result of baking. It becomes not only much easier and faster to make bread, rolls or cakes; it also improves the quality of the products in terms of taste and freshness.
In order to find ways to make the excellent products of Puratos even better, Marc De Schutter,  General Manager of the Guangzhou based production unit of Puratos in China is very interested to test how his products are improving the quality of life aboard a 13m sailing yacht during the circumnavigation.
Thank you Marc
News of: 12.06.2009, at 07:24:03 hrs
With ARC 2009 registered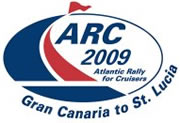 We have registered us and our Su An with the ARC. ARC stands for "Atlantic Rally for Cruisers". This largest transoceanic sailing event in the world starts every year in November in Las Palmas de Gran Canaria. Around 250 yachts are sailing at the same time the 2700 nautical miles distance in to the Caribic. The Caribbean destination is Rodney Bay in St.Lucia, one of the most beautiful islands in the Lesser Antilles.
The ARC is also famous for its stiff safety requirements. All participating vessels have to comply with these high safety standards.
The regatta starts on November 22, 2009 and the yachts are expected to arrive three weeks later in St. Lucia. We are looking forward to this big event and hoping to meet lots of other crews.
In the ARC "Fleet Viewer" the position of all the participating yachts is daily reported.
News of: 08.05.2009, at 12:36:48 hrs
Yacht bought
This was a great moment. We have signed the contract which makes us the new owner of a Reinke 13M aluminum yacht with the name "Su An". We celebrated the event with a nice glass of red wine.
News of: 15.04.2009, at 02:32:07 hrs
Major Project under planning
We are in the process of planning a bigger project. Soon we will inform you about the details here on Trade Wind.
News of: 11.01.2009, at 15:12:48 hrs
Phuket we are coming
It is already almost a tradition that our friends from China and Germany meet during the Chines New Year at the East Cost of Thailand to enjoy a sailing week between Phang Nga Bay and Phi Phi Island.
News of: 01.05.2008, at 09:24:58 hrs
Sailing in Australia
In a few day we will start a new sailing adventure. We will cruse from Hamilton Island parallel to the Australian east cost to Port Douglas.
News of: 04.07.2007, at 13:10:48 hrs
Positions now shown in map
Now is it possible to show the position in the map.
News of: 03.07.2007, at 13:06:23 hrs
Thailand Report 2007
During the week in Thailand once more our sailing dreams came true. It was simply marvelous. The detailed report is here.
News of: 13.02.2007, at 17:03:27 hrs
Thailand again
During the Chinese New Year days, we will go again to Thailand for a one-week sailing vocation. Thailand is very near by and so beautiful.
News of: 20.12.2006, at 13:02:40 hrs
Merry Christmas
I wish you all a Merry Christmas, a Happy New Year and may come all your sailing dreams true.