News
News of: 19.10.2009, at 18:29:25 hrs
Thank you dear brother for the sponsoring

Pestel PUR-Kunststofftechnik GmbH
Friedrich-Oskar-Schimmel-Straße 23 – 25
09120 Chemnitz, Sachsen
Germany
Tel.:   +49 (0)371 / 56007-0
Fax:    +49 (0)371 / 56007-14
Internet: http://www.pur-pestel.de
Email:   service@pur-pestel.de
Manufacturer of polyurethan plastic components in a wide spectrum of weights from 0,2 kg till 40 kg and of measurements of the exterior surface from 1 dm² up to 500 dm².
The plastic parts are used in a wide area. Important customers are comercial vehicles, mechanical engeneering, medical and electronical equipments, different cases and much more. The most kinds of polyurethan types of material are processed as polyurethan RIM hard and flexible for example body work parts, bumper and fender, and polyurethan foam for integral hard and integral half hard for example steering wheel, shock-protection).
The company has an own department for:
design and manufacture the required moulds
design and developments of polyurethan parts and especially production equipments and means of transport
painting and installing of produced plastic parts
News of: 11.10.2009, at 16:36:54 hrs
Logbook for all sailing yachts
Our Logbook www.openlogbook.com is also available for all other sailing yachts free of charge. Please feel free to check it out. The German version is www.openlogbook.de.
What is OpenLogbook?
A Logbook for all Sailing Yachts
OpenLogbook is a system which offers all yachtsmen the opportunity to publish there logbooks in the Internet. The name 'OpenLogbook' means: This Online-Logbook is open to all Sailing Yachts. All basic functions of OpenLogbook are free of charge.
Update your logbook 'on the way'
Beside the usual way to add or edit the entries in the logbook by the means of editing masks on a computer which is hooked up to the Internet, OpenLogbook offers as a special highlight an email interface. This allows you to add or edit logbook entries by sending emails via a shortwave radio or a satellite telephone while you are on your way.
Clearly Arranged
The single logbook entries are subdivided by 'Legs'. Every yacht can create an unlimited number of 'Legs' and every 'Leg' can contain an unlimited number of logbook entries. Beside the text layout is also a map display implemented. This makes it easyer for the visitor to trace the yachts. The evarage visitor would enter this webpage in the following sequence:
Select one of the legs of this yacht,
Read the Logbook or trace the yacht in the map display.
On the page 'FAQ' answers the Administrator Frequently Asked Questions.
In case there is a particular problem the user can go to the 'Contact Form' and ask the Administrator for help.
News of: 29.08.2009, at 21:32:44 hrs
Local newspaper covererage
One day after the departure of our trip around the world the local newspaper of our home town Chemnitz reported about our adventure (Sorry, only in German).
News of: 14.07.2009, at 17:30:00 hrs
Puratos sponsors the project "Circumnavigation"
Puratos is a world famous manufacturer of ingredients for bakery and patisserie products. Such ingredients improve the result of baking. It becomes not only much easier and faster to make bread, rolls or cakes; it also improves the quality of the products in terms of taste and freshness.
In order to find ways to make the excellent products of Puratos even better, Marc De Schutter,  General Manager of the Guangzhou based production unit of Puratos in China is very interested to test how his products are improving the quality of life aboard a 13m sailing yacht during the circumnavigation.
Thank you Marc
News of: 12.06.2009, at 07:24:03 hrs
With ARC 2009 registered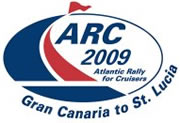 We have registered us and our Su An with the ARC. ARC stands for "Atlantic Rally for Cruisers". This largest transoceanic sailing event in the world starts every year in November in Las Palmas de Gran Canaria. Around 250 yachts are sailing at the same time the 2700 nautical miles distance in to the Caribic. The Caribbean destination is Rodney Bay in St.Lucia, one of the most beautiful islands in the Lesser Antilles.
The ARC is also famous for its stiff safety requirements. All participating vessels have to comply with these high safety standards.
The regatta starts on November 22, 2009 and the yachts are expected to arrive three weeks later in St. Lucia. We are looking forward to this big event and hoping to meet lots of other crews.
In the ARC "Fleet Viewer" the position of all the participating yachts is daily reported.
News of: 08.05.2009, at 12:36:48 hrs
Yacht bought
This was a great moment. We have signed the contract which makes us the new owner of a Reinke 13M aluminum yacht with the name "Su An". We celebrated the event with a nice glass of red wine.
News of: 15.04.2009, at 02:32:07 hrs
Major Project under planning
We are in the process of planning a bigger project. Soon we will inform you about the details here on Trade Wind.
News of: 11.01.2009, at 15:12:48 hrs
Phuket we are coming
It is already almost a tradition that our friends from China and Germany meet during the Chines New Year at the East Cost of Thailand to enjoy a sailing week between Phang Nga Bay and Phi Phi Island.
News of: 01.05.2008, at 09:24:58 hrs
Sailing in Australia
In a few day we will start a new sailing adventure. We will cruse from Hamilton Island parallel to the Australian east cost to Port Douglas.
News of: 04.07.2007, at 13:10:48 hrs
Positions now shown in map
Now is it possible to show the position in the map.