News
News of: 05.05.2015, at 09:20:02 hrs
Baby SuAn's first cruise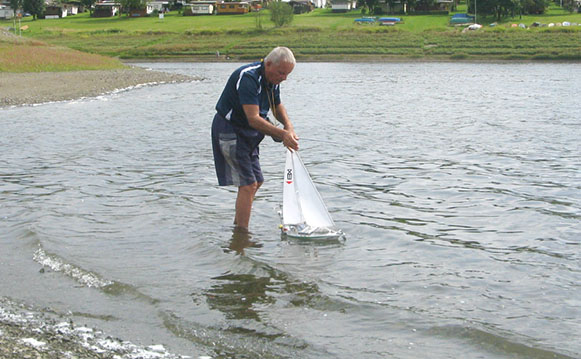 Baby SuAn's first cruise starts on the man made lake "Pöhl". Lutz's dad carefully launches her from the beach. Then he takes the helm via a remote control devise.
News of: 30.12.2014, at 23:40:45 hrs
Correction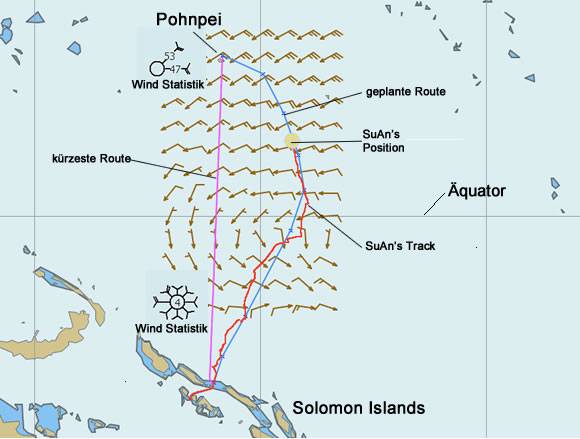 Sorry, we have realized that we uploaded the wrong image in the Position Report "Weather Routing".  Now the image is replaced with the right one.
This link leads directly to the corrected Position Report.
News of: 30.08.2014, at 08:51:35 hrs
Baby SuAn is grown up
It is accomplished! The model of SuAn in the scale 1:25 is completed. Even small details are attached, such us the wind turbine, the outboard engine and the solar panels. The model is radio controlled and fully functional.
The crew of the mother SuAn says on this way thank you to Lutz's father and appreciates this beautiful masterpiece.
News of: 17.04.2014, at 08:53:33 hrs
SuAn is back in the water!
After two years and two months SuAn is lifted back in to the water. Steve and his team from the Scarborough Marina take SuAn out of her working box in to the water and maneuver her in to a marina berth.
News of: 17.02.2014, at 19:23:38 hrs
Baby-SuAn got sails
The casual observer might not notice that he image does not show our SuAn on the hard in Austalia. This is the Baby-SuAn in the ratio 1:25, in Papa's Appartment in Chemnitz, Germany.
She got already a mast and sails and some of the accessories. There is not much more missing until our Baby-SuAn can go on some voyages on her on.
News of: 28.11.2013, at 11:43:44 hrs
SuAn-Baby is developing nicely
The proud father, Papa Karl, presents the fast developing SuAn-Baby. Even though some details are still missing, the typically lines of the hull of the mother SuAn can be easily recognized.
The SuAn-Baby will be fully functional. For this reason rudder, remote control receiver, sheet winch and motor are already integrated in to the hull.
The crew of the mother SuAn hardly can wait to see the little SuAn to sail on her own.
News of: 19.09.2013, at 17:03:53 hrs
SuAn is getting a baby
It is hardly believable, but SuAn is getting a baby. The usual question about "Who is the father?" is quickly answered: It is Lutz's papa Karl.  With great engineering skills and a professional approach did he clone SuAn's genes in the scale 1:25. Meanwhile the shape of little SuAn with its typical twin kiel is clearly recognizable.
Mother -SuAn's crew is very exited about the growing family.
News of: 20.07.2013, at 08:28:47 hrs
Impressions from China
Even we are not traveling by boat right now, but work every day in that foreign very different cultural environment, we continue to report with photos and short reports about China in our logbook. Have a look from time to time! The countdown is on until we continue our sailing trip around the world.
News of: 01.03.2012, at 02:28:44 hrs
Working in China
Since today we are living and working in China. We made a fast decision again. We are taking a break from our sailing adventure and return in the world of business. For a period of two years we swap the sea charts against flow charts, VHF radio against the mobile phone and our SuAn against an apartment in Foshan, China. We will continue our journey in April 2014.
News of: 12.01.2012, at 14:08:03 hrs
New Search Function
Since today our web page is equipped with very easy to use search functionality. This enables you to find easily and fast specific pages in our web site according to one or more key words. Simply type the key word in the search line in the upper right part of the screen and instantly the relevant pages will be listed.