Entry Date: 20.03.2022, at 16:00:00 hrs (local)
Oban - Nelson
Tourism in Milford Sound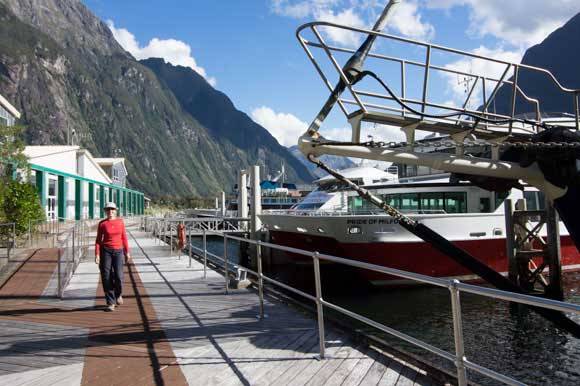 | | |
| --- | --- |
| PRID: | 12422 |
| LegID: | 335 |
| LegNo: | 82 |
| Latitude: | S044°41.07' |
| Longitude: | E167°54.84' |
| Day#: | 1178 |
| Log (Leg): | 538 nm |
| Log (Total): | 57605 nm |
Milford Sound with its majestic beauty was discovered by the first Europeans at the end of the 19th. Century. Today it has the UNESCO world heritage status achieved.
Quinton Mackinnon was the first European, who traveled from Te Anau over land through the mountains to Milford Sound. He later worked as the first guide on the today quite well frequented Milford Track, a 3-4 days hike
Donald Southerland with his wife Elizabeth got the first land title in Milford Sound, built themselves a nice residence, extended it to 12 bedrooms and established the first fine accommodation for visitors in Milford Sound in 1898.
Since around 1850 the Milford Road from Te Anau was finished, a huge project. The 120 km long road was mainly built without big machinery because of the difficult terrain, so was the 10.5 km long Homer Tunnel, dug through a mountain of granite. Now the travel time to spectacular Milford Sound was reduced from more than 4 days by foot to today 2.5 hours.
Today Milford Sound is The Tourism Hub in New Zealand. A big lodge, backpackers accommodation, busy airstrip for little sport planes and helicopters, a fishing port for the Fiordland Lobster Company, parking areas, a little village for the employees and a big passenger terminal with a port for 15 ships. We are told, that on summer days before the Corona pandemic about 7.000 people were visiting Milford Sound in coaches or private cares per day!. Now there are only 70 visitors a day. What a loss for the tourism industry! Even we like it, if the beautiful places are not crowded, but for such a famous spectacular fjord, it seems like a ghost town, when the bus terminal with space for at least 50 coaches is totally empty.