Entry Date: 10.12.2020, at 11:00:02 hrs (local)
Whangarei - Kaikoura
Arrival at the South Island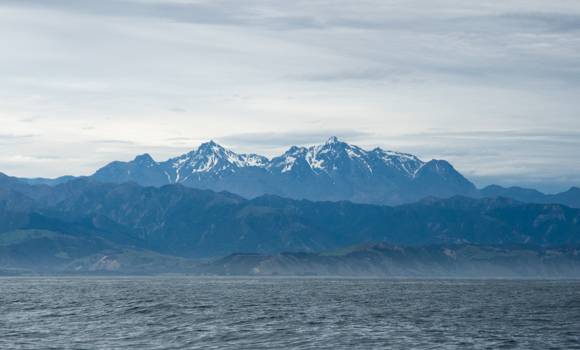 | | |
| --- | --- |
| PRID: | 12068 |
| LegID: | 326 |
| LegNo: | 74 |
| Latitude: | S042°24.48' |
| Longitude: | E173°42.02' |
| Day#: | 996 |
| Log (Day): | 22 nm |
| Log (Leg): | 700 nm |
| Log (Total): | 52701 nm |
We have been hurrying to arrive our planned anchorage at Kaikoura on the South Island just early in the morning before the strong southerly winds start to blow on our nose.
It is a totally different scenery compared with the North Island: snow covered high mountains give the coast line a rough appearance. Lots of seals and dolphins are in the water around us and albatrosses circle elegantly over the surface of the sea. One of the touristic highlights in Kaikoura are the boat tours which are offering swimming with dolphins.
But the anchorage is very open to the Pacific Ocean and not safe. There are lots of rocks around us and seaweed on the bottom. The anchor does not hold very good. We check the weather of different forecasts again before we want to get our missing sleep. It has changed again and tomorrow morning another storm with 40 knots will blow from the south. And until then wind with 25 knots from south turning to north will make our anchorage very unsafe. A big wave could roll in from the ocean. We cannot stay!