Entry Date: 21.11.2021, at 11:00:00 hrs (local)
Whangarei - Stewart Island
Te Ana Marina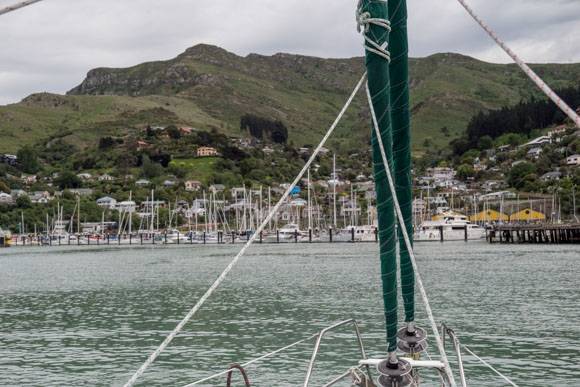 | | |
| --- | --- |
| PRID: | 12311 |
| LegID: | 332 |
| LegNo: | 80 |
| Latitude: | S043°36.27' |
| Longitude: | E172°42.80' |
| Day#: | 1123 |
| Log (Day): | 2 nm |
| Log (Leg): | 903 nm |
| Log (Total): | 56453 nm |
After a quiet night we move into Lyttelton Port, where the marina Te Ana is located and well protected from the break water of the port area.
The natural bay of Lyttelton Harbour is a former crater lake. Just behind the marina the crater rim rises up to almost 500m (1500ft). Those mountains prevented Lyttelton from growing to a big city. But just behind them Christchurch has developed to the third largest city of New Zealand.
In the old times, when the first European settlers moved to New Zealand, Lyttelton Harbour was a well protected place for the arriving ships, which brought women to found families with the settlers. The so called Pioneer Women had to climb over that steep mountain to reach their new homes in Christchurch and around. Horses helped to carry their belongings. The path they used is named Bridle Path.
1867 a rail tunnel was opened to connect the port in Lyttelton with Christchurch. But it took more then 110 years until a road tunnel was finished, which is frequented by more than 10.000 cares daily and is part of the State Highway 74.