Entry Date: 17.09.2023, at 11:00:00 hrs (local)
Cocos Keeling - Mayotte
Washing Machine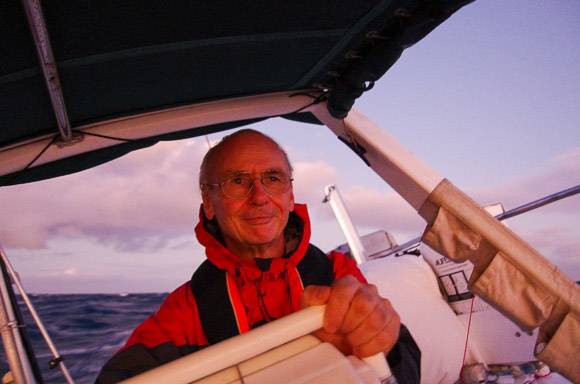 | | |
| --- | --- |
| PRID: | 12814 |
| LegID: | 347 |
| LegNo: | 93 |
| Latitude: | S011°47.45' |
| Longitude: | E047°39.29' |
| Day#: | 1427 |
| Log (Day): | 148 nm |
| Log (Leg): | 2927 nm |
| Log (Total): | 72120 nm |
Days sailing: 21
Covered distance: 2906 nautical miles
Distance to destination: 154 nautical miles
Weather: 6kn E wind, 1m swell, sunny, 29 degree Celsius
Mood of the crew: glad
The rounding of Cap D'Ambre, the most northern tip of Madagascar, was indeed a ride in an over sized washing machine. On our way to the cap it became dark, pitch dark, no moon. The closer we came to the cap the more the wind was increasing. Around the cap the wind was howling with 30 to 40 knots. Also the size of the waves seemed to increase. Lutz was tethered in the cockpit and all he could see were the illuminated board displays, the lighthouse on the cap and lots of stars. As far as acoustics is concerned, the howling of the wind was only overpowered by the roaring of the huge braking waves in the proximity. Ones in a while a big wave found her way in to the cockpit and filled it with water. SuAn´s ships movements have been very wild and erratic, but again she could convince us that she is exactly the right vessel when it gets a little exciting.
Two hours later it was over. The wind speed dropped to the usual 25kn, the waves leveled out and the ships movement was reduced to the normal state and for the rest of the night we had good sailing to the West.
This morning the wind dropped down to 6 kn. We are rather drifting with the current than sailing toward the West.
If there are questions, just ask them in the Forum. We are happy to try to answer them.