Entry Date: 03.12.2022, at 15:00:00 hrs (local)
Puteri Harbour - Johor - Langkawi
Pangkor Marina Island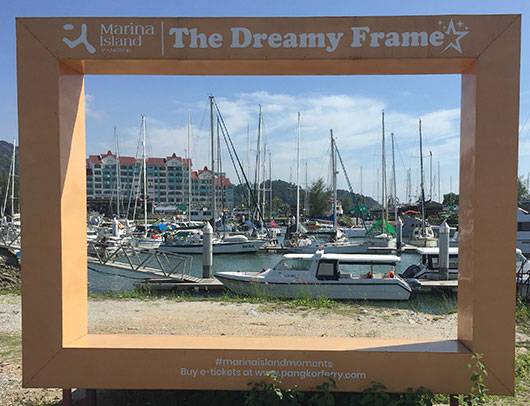 | | |
| --- | --- |
| PRID: | 12616 |
| LegID: | 340 |
| LegNo: | 87 |
| Latitude: | N004°12.71' |
| Longitude: | E100°36.09' |
| Day#: | 1293 |
| Log (Leg): | 300 nm |
| Log (Total): | 64715 nm |
Pangkor Island at the West coast of Malaysia Peninsula is only reachable by ferry or little boats from Pangkor Marina Island and has a little airport.
Pangkor Marina Island is connected with a bridge to Malaysia Peninsula. The next town Lumut is a few Kilometers away, to far for walking. We have to rent a scooter or hire a cab, if we need to do some shopping.
Here on Pangkor Marina Island are several businesses and it once was a fun destination for everyone. A big apartment hotel is viewing the marina and a fun water park towards Lumut. Unfortunately lots of businesses had to close, because no tourists have been coming during Covid. Also the fun water park is closed, as well as lots of little restaurants, pubs, ships around the little island. Only the marina is busy with lots of boats in the water and on land. Several times a day little ferries transport passengers over to Pangkor Island, with as well as without cars.
We hope, that this little Marina Island will soon have good business again, that tourists are coming back, the water park will open and the island will be full of life again.