Entry Date: 03.08.2022, at 13:30:00 hrs (local)
Uf Mar, Kai Islands - Batam
Traditional culture in Rutong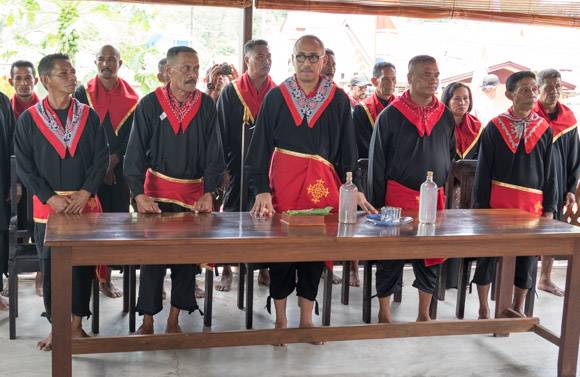 | | |
| --- | --- |
| PRID: | 12533 |
| LegID: | 339 |
| LegNo: | 86 |
| Latitude: | S003°43.57' |
| Longitude: | E128°08.56' |
| Day#: | 1240 |
| Log (Leg): | 336 nm |
| Log (Total): | 62185 nm |
As we step off the bus in the festively decorated village of Rutong on the west side of Ambon Island, we are greeted by young men in traditional Moluccan dress. In our honor they perform an impressive Cakalele dance.
This is followed by another traditional dance performed by a group of mothers called "Mama Ina" who wear black costumes made of Cele and Salele fabrics.
This is followed by an impressive speech by the village elder and a formal welcoming ceremony for us visitors.
We are then escorted to the village fairground near the beach with a bamboo flute orchestra. Here follow more dance and song performances and finally we are treated to a traditional meal.
When we later take the bus back to Ambon town, we are deeply impressed by the hospitality of the villagers and above all by the immense effort with which they prepared our visit, decorated their village and finally made our stay in Rutong an unforgettable event to have.
Below are two video report from Indonesian TV about our visit to Rutong.