Entry Date: 19.10.2023, at 18:00:00 hrs (local)
Dzaoudzi, Mayotte - Dzaoudzi, Mayotte
Reanimation of Yanmar San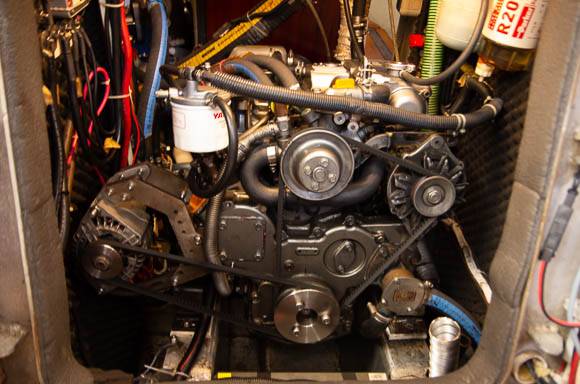 | | |
| --- | --- |
| PRID: | 12839 |
| LegID: | 348 |
| LegNo: | 94 |
| Latitude: | S012°46.74' |
| Longitude: | E045°15.84' |
| Day#: | 1434 |
| Log (Leg): | 222 nm |
| Log (Total): | 72496 nm |
The moment of truth has arrived: today, we are carrying out the re-animation of Yanmar San.
Lutz meticulously checks every assembly step, using the service manual as a reference. Together with Jeff and Bert, they carefully consider whether there might still be an issue anywhere. Tension is palpable, and we dare not imagine the consequences if Yanmar San doesn´t start, even with the new injection pump.
Lutz primes the engine and ensures that diesel is actually reaching the injection pump. Then comes a crucial test: He disconnects the high-pressure lines from the injectors. With the previous faulty injection pump, no diesel reached this point. Gabi engages the starter. An extremely encouraging sign: Diesel is now coming out of all 4 injectors. After Lutz tightens the nuts again, it´s finally time:
Gabi activates the starter, and Yanmar San comes back to life! Hooray!