Entry Date: 04.08.2023, at 10:30:00 hrs (local)
Miri, Malaysia - Cocos Keeling
Leaving Miri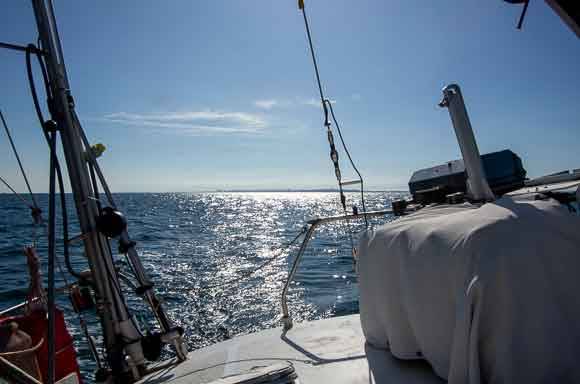 | | |
| --- | --- |
| PRID: | 12768 |
| LegID: | 345 |
| LegNo: | 92 |
| Latitude: | N004°16.97' |
| Longitude: | E113°44.17' |
| Day#: | 3191 |
| Log (Day): | 15 nm |
| Log (Leg): | 15 nm |
| Log (Total): | 67629 nm |
Days sailing: 1
Covered distance: 16 nautical miles
Distance to destination: 1574 nautical miles
Weather: 12kn south wind, very small waves, sunny, 31 degree Celsius
Mood of the crew: exited
We are on the way! The next destination on this journey to South Africa is the little atoll Cocos Keeling. The distance to Cocos is about1600 nautical miles (3000 km) to sail.
Actually we left Miri already yesterday (for the first time). All the big weather models predicted very light winds. But they have been very wrong. After we left the marina yesterday the wind constantly picked up. We found our self in 30 plus knots of wind, blowing exactly from the direction we wanted to go. After two hours we gave up and returned to the Miri Marina.
Today we try again and it looks promising. Currently we have 12 kn wind from South and SuAn goes with main sail and genua 5 kn. It is very nice sailing, so far. During the next 3 days we will sail in Malaysian waters, until we will round Cape Api and Cape Mungguresak, then we will in Indonesian waters, following the West coast of Borneo to the South. We hope the wind remains like this.