Entry Date: 27.05.2023, at 16:00:00 hrs (local)
Kuala Terengganu - Kuching
Sailing to Anambas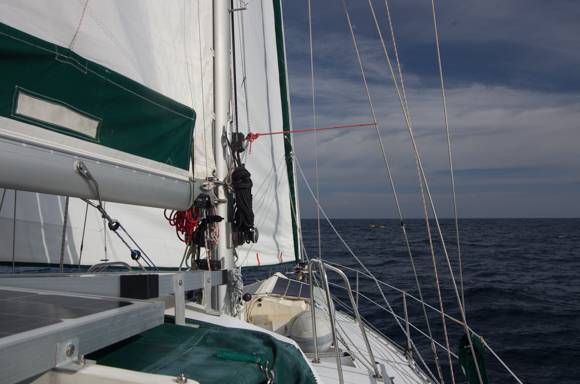 | | |
| --- | --- |
| PRID: | 12719 |
| LegID: | 343 |
| LegNo: | 90 |
| Latitude: | N004°32.06' |
| Longitude: | E104°01.10' |
| Day#: | 1356 |
| Log (Day): | 83 nm |
| Log (Leg): | 83 nm |
| Log (Total): | 66315 nm |
After we have cleared out in Kuala Terengganu, we set sails and start heading for the little island group Anambas in the South China Sea, which is part of Indonesia and also a stopover of our rally Sail Malaysia.
But soon we are realizing, that the wind is not as forecast from south westerly directions, just from the south. Not good for us and we decide to stop for the night at Kapas Island. The next day´s wind direction is  not much better, but we make it with the help of our engine and sails to Tenggol Island. Here we give Yanmar San some rest for the night, hoping for better wind on Saturday.
Saturday than the wind direction is slightly better, but we have to beat the wind, too, a course, which is very slow for SuAn. Tilting about 20 degrees, we slowly keep going under sails towards Anambas Island.
We have to keep a careful watch-out, because fishermen have laid there traps even in deep water and the marking buoys often are seen very late only.