Entry Date: 27.03.2023, at 12:30:00 hrs (local)
Langkawi - Langkawi
PSS Shipyard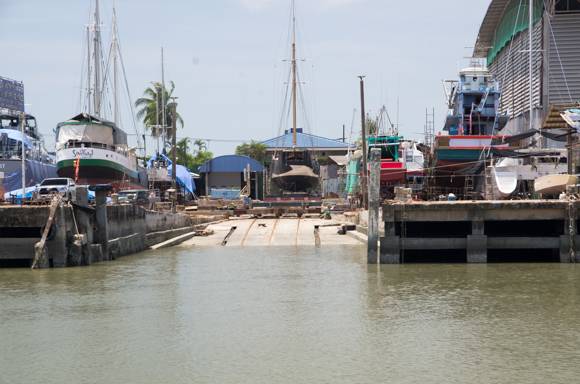 | | |
| --- | --- |
| PRID: | 12669 |
| LegID: | 341 |
| LegNo: | 88 |
| Latitude: | N006°39.46' |
| Longitude: | E099°58.31' |
| Day#: | 1323 |
| Log (Day): | 11 nm |
| Log (Leg): | 425 nm |
| Log (Total): | 65282 nm |
Lutz has downloaded a track of another yacht, which ends up in a river on mainland Thailand close by. We want to find out, if there would be a shipyard to get SuAn´s rudder bearings repaired.
Following the way points we slowly motor up the way through the shallow muddy water. Sometimes suddenly there is not enough water under the keel anymore, but in the soft mud we are easily get backwards into slightly deeper waters. After some minutes the track follows a river with mangroves on both shores and long-tail boats are overtaking SuAn going up-river, too.
The river winds up like a snake and after another mile simple wooden buildings appear and we see some masts on land. Yes, there is a shipyard. Between a retaining wall, supporting the shore at the shipyard a ramp with rails is opening up. Boats can be taken in and out on a flatbed trailer. The shipyard is quite small and there is nothing much around.
After a short talk to the manager we know, that it would be possible to get SuAn on land and repair our rudder bearing as well as doing antifouling. But it is not an option for now, since we have cleared out from Thailand. But if we do not find a suitable lift for SuAn in Langkawi, that might be an option.