Entry Date: 19.03.2023, at 17:30:00 hrs (local)
Langkawi - Langkawi
Railay Beach - Krabi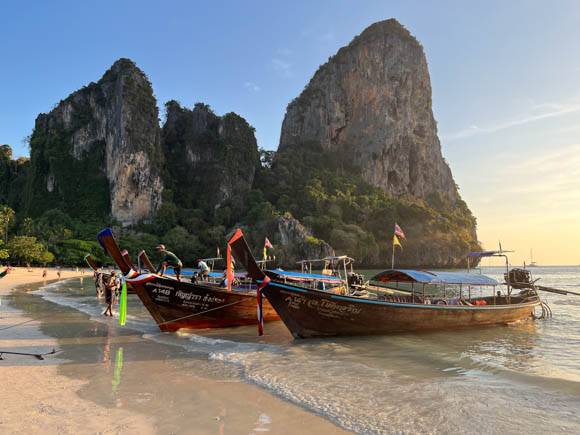 | | |
| --- | --- |
| PRID: | 12661 |
| LegID: | 341 |
| LegNo: | 88 |
| Latitude: | N008°00.58' |
| Longitude: | E098°49.99' |
| Day#: | 1315 |
| Log (Day): | 5 nm |
| Log (Leg): | 233 nm |
| Log (Total): | 65090 nm |
A bit west of Krabi town a breathtaking beautiful bay with three sandy beaches divided by two limestone peninsulas with steep cliffs is opening up. The limestone cliffs are all connected in the hinterland and are full with interesting caves and hanging rocks.
Since the steep cliffs are a barrier to the mainland, there are no roads and everything and everyone arrives by boat. One whole long sandy beach is blocked with lots of long-tail boats, which are waiting for their next trip. Railay Beach is a tourist village with lots of restaurants, bars, cafes, souvenir shops, accommodation and tour operators. Besides swimming, snorkeling, kayaking, paddle boarding, relaxing with Thai massages or in one of the many Cannabis bars, there is also rock climbing and caving provided.
We enjoy first of all the beauty of the scenery, but also a cocktail in a beach bar, good food for dinner and breakfast and a Thai massage and visit an impressive cave with huge stalactites.
More pictures will be available soon.