Entry Date: 28.01.2023, at 11:00:00 hrs (local)
Puteri Harbour - Johor - Langkawi
Chinese New Year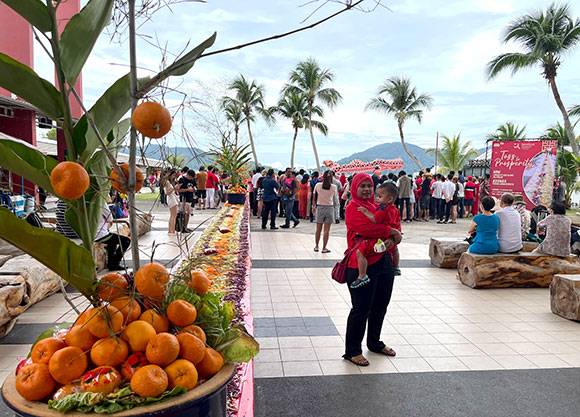 | | |
| --- | --- |
| PRID: | 12620 |
| LegID: | 340 |
| LegNo: | 87 |
| Latitude: | N004°12.71' |
| Longitude: | E100°36.09' |
| Day#: | 1293 |
| Log (Leg): | 300 nm |
| Log (Total): | 64715 nm |
The Chinese Spring Festival has already started last weekend. Since a big part of the population in Malaysia is Chinese, there were severel public holidays around last weekend and this week is still a celebration week for lots of Chinese people.
Pangkor Island is a good holiday destination and so, today there is a celebration of the Chinese New Year at the ferry station, just besides the marina.
Lion Dance and Dragon Dance are performed to the rhythm of the drums and than fire crackers chase away all the bad ghosts for the new year. Since it is the year of the rabbit, a 100 m long bufet with salad decorates the area of the performance.
It feels like a nice welcome for us, too.
To all our Chinese friends, we wish you
Gong Xi Fa Cai.
(3)