Entry Date: 14.12.2021, at 10:00:00 hrs (local)
Paterson Inlet - Stewart Island - Stewart Island
Preparations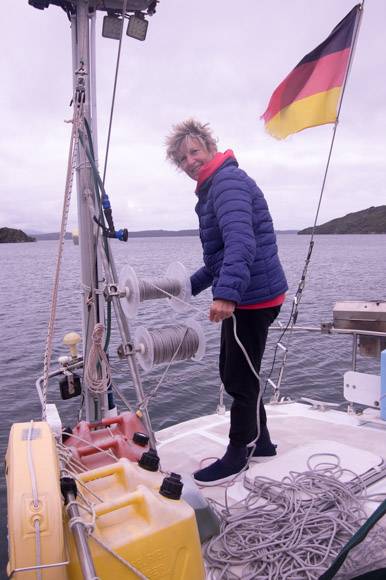 | | |
| --- | --- |
| PRID: | 12329 |
| LegID: | 334 |
| LegNo: | 81 |
| Latitude: | S046°58.26' |
| Longitude: | E168°10.17' |
| Day#: | 1132 |
| Log (Total): | 56841 nm |
Here, in the south of New Zealand depression systems often bring serious winds, with fast changing directions. It is necessary to choose the anchorages very well. Some of them are very small or fast descending seafloor require additionally safety measures to keep the boat secured.
Since our experiences last year we often had problems to bring out our stern lines fast enough, because the 100 m (300 ft) long ropes often came unclear. We got some rope drums and Lutz has built a special mount to assemble them on our radar mast.
Now it is time to prepare them in order to be ready for our next anchor spot.