Entry Date: 27.07.2019, at 15:00:00 hrs (local)
Denerau - Lautoga
Yacht Senses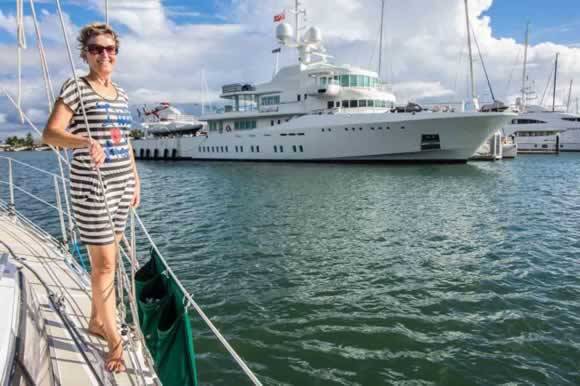 | | |
| --- | --- |
| PRID: | 11791 |
| LegID: | 320 |
| LegNo: | 68 |
| Latitude: | S017°45.63' |
| Longitude: | E177°23.24' |
| Day#: | 913 |
| Log (Total): | 49394 nm |
Here in the super touristic Port Denerau are quite a few super yachts like the yacht Senses. When we "google" the ship´s name we are quite surprised: The yacht Senses belongs to Larry Page, the co founder of Google.
Now our curiosity is raised. We learn that the 194 ft long Senses has a crew of 14 and offers accommodation for 12 guests in 6 cabins. She is designed by Francis Design and build in 1999 by Sweers. The 993 ton ship is propelled by Deutz engines to a speed of 14 knots. Here price is 45.000.000 US$.
Senses owner, Larry Page is one of the richest men on earth. His net worth is estimated to 50 billion US$.
Since this is not exactly the environment we belong to, we intensify our preparations to get out of here very soon.