Entry Date: 02.05.2008, at 00:00:00 hrs (UTC)
Hamilton Island - Cairns
Arrival in Australia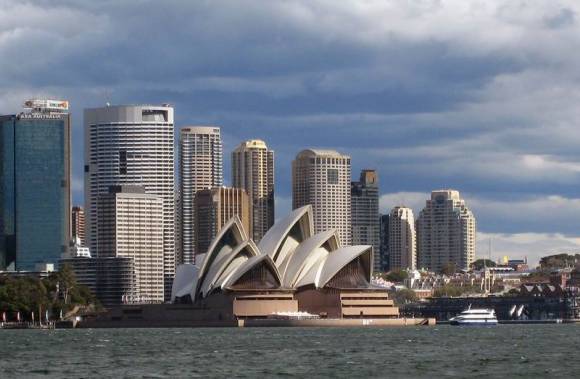 | | |
| --- | --- |
| PRID: | 6792 |
| LegID: | 126 |
| LegNo: | 1 |
| Latitude: | S020°20.74' |
| Longitude: | E148°56.97' |
| Course: | 300 ° |
| Speed: | 5 kn |
Our friend Joerg has booked a Miles Catcher Trip at the Australian east cost from Hamilton Island to Port Douglas.
On Monday, April 28th. we started our flight from Guangzhou to Sydney, where we were picked up on Tuesday morning by Jorg and Mike with a rented car. We watched the surfer at Bondi Beach and participated in the bridge climb of the famous Harbour Bridge. This bridge climb is a must do in Sydney! Climbing on a really secured way up through the construction of this 153 m high and 1140 m long steel construction dressed with special suits and equipment to make sure nobody and nothing could drop off the bridge.
The next day we drove to Hunter Valley about 250 km north of Sydney. In several vineyards we tasted different wines. We enjoyed the nature with very few population, lots of buffalos and horses and the fresh air. We have spent the night in one of the vineyards in a nice restaurant and were looking for kangaroo and wombats - but didn´t find any.
On Thursday morning we headed back to Sydney to catch our plane to Hamilton at 1:05 p.m. Our appartment on Hamilton Island was very big with a nice view on one of the many bays around the Whitsunday Islands. We explored the island with the shuttle bus service and did some swimming in the pool. There is too much warning about all the stingers in the waters of Australia and we did not want to risk being stung.
Friday - May 2nd. - we could enter our sailing yacht a Jeannetteau 45 at 4:00 p.m. Beside the 4 of us Sunsail provides the Miles Catcher Trip with 2 Sunsail skippers to teach the students, how to sail, navigate, anchor….a boat. For Lutz this trip is different from all the others, this time not as skipper, but he will also try to learn as much as possible from the experienced Australian skippers.
(15)