Entry Date: 26.05.2021, at 17:39:33 hrs (local)
Whangarei - Whangarei
Digging deep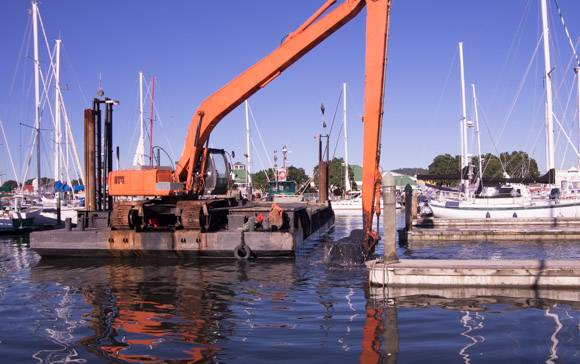 | | |
| --- | --- |
| PRID: | 12218 |
| LegID: | 331 |
| LegNo: | 79 |
| Latitude: | S035°43.42' |
| Longitude: | E174°19.56' |
| Day#: | 1076 |
| Log (Leg): | 33 nm |
| Log (Total): | 55143 nm |
The Town Basin Marina in Whangarei is located at the and of the navigable part of Hatea River. Rain, erosion and tides bring lots of sediments which over the time reduce the water depth and boats with a long keel might have difficulties to get to the marina or stuck in the mud.
Since a couple of weeks a tug boat with an excavator on a barge come into the marina in order to dig out the accumulated mud on the bottom of the water. The boats in the marina have to move to different berths to provide enough space to do the work between the docks and fingers.
That thick mud probably houses many treasures, like stainless steel parts, tools, jewelry, cutlery and mobile phones, which were dropped over board when getting on or off the boat or during work on deck.