Entry Date: 28.07.2020, at 12:26:30 hrs (local)
Whangarei - Whangarei
James Cook in New Zealand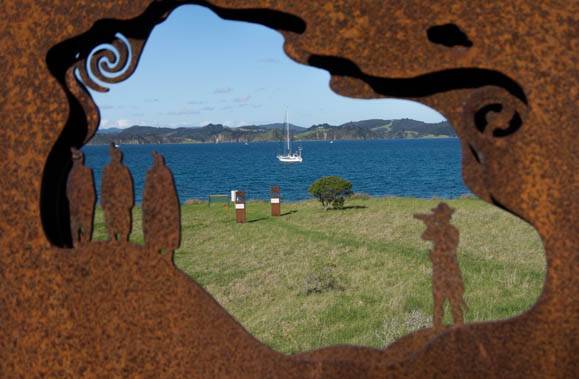 | | |
| --- | --- |
| PRID: | 11957 |
| LegID: | 325 |
| LegNo: | 73 |
| Latitude: | S035°14.06' |
| Longitude: | E174°10.10' |
| Day#: | 943 |
| Log (Leg): | 114 nm |
| Log (Total): | 51309 nm |
Here, on Motuarohia, we learn on little boards about the history of James Cook´s interactions with the local Maori people:
On his journey to Tahiti with his ship Endeavour he got the order to explore Australia, the fifth continent. Since he was on his way to Tahiti, he could not prepare himself and his crew for the encounter with the Maori people.
During their two months of traveling around Aotearoa (New Zealand), James Cook and his crew had encountered many Maori. Yet they had routinely misjudged or ignored their tikanga (protocols) and opened fire. The Endeavour crew were genuinely frightened of Maori warriors and what might happen, should they be overwhelmed by them.
The Motuarohia the warrior Te Koukou was one of many, shot by the Endeavour crew. He was wounded and required treatment.