Entry Date: 12.03.2010, at 23:59:26 hrs (UTC)
St. Martin - Virgin Islands
Bye St. Martin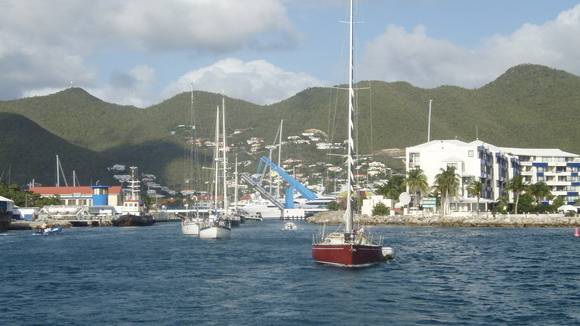 | | |
| --- | --- |
| PRID: | 9799 |
| LegID: | 219 |
| LegNo: | 11 |
| Latitude: | N018°15.00' |
| Longitude: | W063°51.00' |
| Day#: | 73 |
| Course: | 289 ° |
| Speed: | 6.3 kn |
| Log (Day): | 43 nm |
| Log (Leg): | 43 nm |
| Log (Total): | 5748 nm |
After 18 days in the Simpson Bay Lagoon we set sails and leave St. Martin. Even we had a save anchorage, met friends every day and had all the chandleries as sailors can dream of, the water of the lagoon was not good for swimming.
Because of the many chandleries it is easy to go shopping and improve little things at SuAn. But it is not only to buy those things, it also has to be installed, which requires the right tools, which are either packed far away or need to be purchased as well. And so time goes fast.
Today we fix a pulley for our new dinghy in the mast and lift it on our foredeck. Just shortly before the bridge opens at 4.30 p.m. we are ready to leave the lagoon. The weather forecast says, that the wind will drop in the next days, so we decide to sail over night to the British Virgin Islands with our first destination Virgin Gorda. Also SY Heimkehr is leaving today and we will meet tomorrow 85 miles west of St. Martin.
With winds from East we fix the Genoa with our spinnaker beam. The waves let us roll from left to right all night. Gabi managed to cook a delicious chicken curry which was a bit of an artistic act.
(6)